It's a village in northwestern Corfu. Corfu has been suggested to be the mythical island of the Phaeacians, and the bay of Palaiokastritsa to be the place where Odysseus disembarked and met Nausica for the first time
Angelokastro is a Byzantine castle on the island of Corfu, Greece. It is located at the top of the highest peak of the island's shoreline in the northwest coast near Palaiokastritsa and built on particularly precipitous and rocky terrain.
It's a Greek small island near Corfu. Its prominent feature is a Byzantine chapel of Pantokrator, dating from the 11th or 12th century.
The Saint Spyridon Church is a Greek Orthodox church located in Corfu, Greece. It was built in the 1580s. It houses the relics of Saint Spyridon and it is located in the old town of Corfu.
The Old Fortress of Corfu is a Venetian fortress in the city of Corfu. The fortress covers the promontory which initially contained the old town of Corfu that had emerged during Byzantine times.
It's 19-centure neoclassical mansion featuring Achilles-themed interiors & gardens with sea views. Achilleion is a palace built in Gastouri, Corfu by Empress of Austria Elisabeth of Bavaria, also known as Sisi, after a suggestion by Austrian Consul Alexander von Warsberg.
This famous and unique sightseeing of Corfu located 36 km from the main town near village Sidari. You will enjoy amazing flora and nature. It's idyllic area with unique rock formations that form a series of wonderful coves and canals. The rocks run in different shades of yellow and lots of greenery at the top. One can reach these stunning coves through several paths and steps. According to the tradition couples who swim through the narrow canal will get married soon.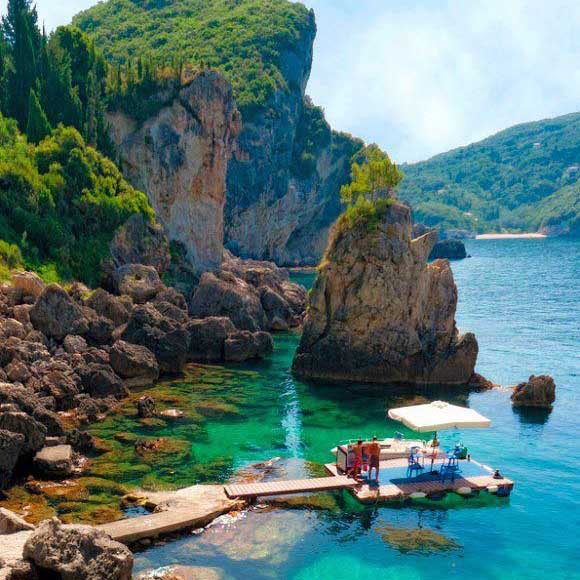 Clear blue water, picturesque rocks around and a bar with some drinks and cocktails – what could be better for a summer day!? Accessable from the sea by boat or by foot through a rather long stairway down from the main road of Paleokastritsa. Amazing location and Atmosphere!
It's one of the most beautiful beach which located 35 km southern of Corfu. Amazing sand dunes, clear blue sea makes this place favourite beach of many tourists. The rich flora divides the shore from the most important wetland of Corfu, the Korission Lake. The lush green forest and the lake make a unique spot for hiking while the high sand dunes offer excellent sunset views. At a close distance, there are bars and taverns.